Supporting The Pittsburgh Non-Profit Community
3 Rivers Wealth Management Bridges Kids Club is an all volunteer group of over 300 children ages 4-19 in the local Pittsburgh community that volunteer their time for various service projects throughout the region. The Kids Club Members and their parents must commit to the kid members earning the funds to contribute minimally to each of our projects.
For Operation Santa the Kids Club Members volunteer their time to shop for and prepare gifts and then help to run the entire carnival from setup to cleanup. Our goal is to teach a new generation the importance of giving to others and to respect and appreciate those who serve our country and local communities.
In 2021, the Bridges Kids Club hosted more than 3,000 active duty & reserve service members and their families from every branch of service at the annual Operation Santa Carnival. More than 300 volunteers from the Bridges Kids Club participated to purchase gifts and run carnival games. In a given year Pittsburgh area military installations deploy an average of 1,500 service members. Each year our military and veteran family attendance grows.
We are always looking for volunteers - both kids and adults. All volunteers age 12 and under must be accompanied by an adult to participate. We host military and veteran support events all year long. Please join our Facebook Group to stay apprised of all upcoming projects "TRWMG Bridges Kids Club."
Letters confirming volunteer hours will be available upon request and we will sign all junior honor society and honor society applications for participating students.
Our fundraising efforts to support events such as Operation Santa have been extremely difficult during the last 2 years. We are always looking for corporate sponsors and will work with all Sports Teams, School & Church Groups and Corporate volunteer programs. Please contact us if interested in learning more.
IMPORTANT: The number of volunteer slots will be limited for this event due to overwhelming response. TRWMG Bridges Kids Club Members & Volunteers purchasing gifts for military children, will have priority of volunteer slots for the event. A very big part of our event is allowing children to experience the joy of selflessly giving to another person. If your child is not purchasing a gift for a military child at the event, we appreciate your willingness to volunteer and you will be placed on a waiting list. If there is room for additional volunteers at the event we will be happy to add you.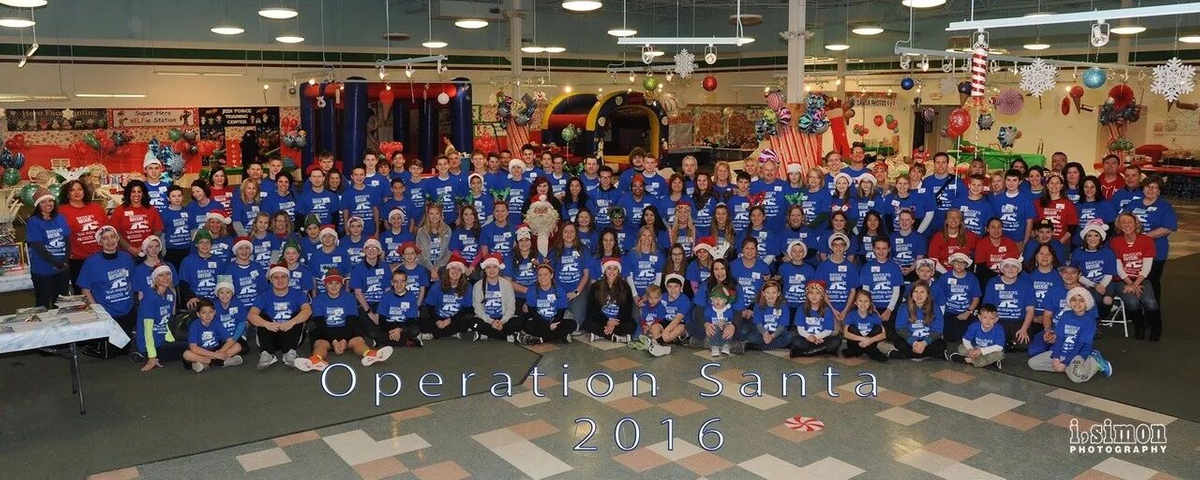 Operation Santa Testimonials From Military & Veteran Families
"Thank you! Thank you for caring selflessly for our families. Thank you for putting a huge smile on my children's faces. Thank you for giving us more fun than we could have asked for on such an dreary day. Thank you for all of the pictures. Thank you to all of the volunteers and vendors who took time away from their own lives to show that they care! We will not forget this event and look forward to next year!"
"My family and I want to thank all of you from the bottom of our hearts. This was our 1st year attending and we were blown way by your generosity! My kids had a blast. There has been a damper on the holidays this year knowing that their daddy is leaving right after Christmas. But for one day they didn't worry about the deployment. It was amazing for someone to recognize the sacrifice even the children of service members make."
"I have been fortunate to have attended or be involved in some capacity with a variety of different military sponsored / benefit events. What stood out to me beyond the amazing gifts for my children (that we are so thankful for) was the volunteers that participated in the event. The enthusiasm and genuine excitement to be there demonstrated by these amazing individuals really set this event far apart anything that I had been previously involved in."
"We were struggling this year but I can confidently say that my kids are having one of the best Christmas seasons yet! The spirit of giving was so beautiful within those walls. My family would like to send our sincerest thank you's to everyone involved & wish each of you a very Merry Christmas. You were a God send to us this year. Thank you from the bottom of my heart."
"Today was MAGICAL! This was our first time attending and we were so completely humbled. Thank you to every organizer and volunteer that blessed us with your time, talent, and love. Your generosity and love for America's military families does not go unrecognized. My heart is so full tonight!"
"Thank you so much for everyone's generosity ! We were so blessed! This is definitely the day my kids look forward to each year. For the first time we got to meet my daughter's "Elf"! This was so exciting for all of us to be able to thank her face to face. She was so sweet to get a picture with my daughter. This day was so magical! Thank you all so much!"
"M'am I just wanted to say thank you again last weekend for everything you guys did, I was the guy with the 3 little girls that thanked you before we left. I am a tough guy but I admit I had tears. That whole thing was absolutely amazing. If it wasn't for things like that I don't know what I would do. I take care of and raise my 3 girls by myself and it isn't easy, especially since half my income go's to daycare. I'm just so glad we had the opportunity of going, it meant a lot. Thank you and Merry Christmas!"
"….It is hard enough to hold down the household while he is away, but this year I found myself absolutely dreading the holiday season. Especially with a 3 year old who is really missing daddy and a newly turned 1 year old. Each Christmas card addressed to our family broke my heart a little more and I was really having a difficult time finding my Christmas cheer without him around, and then I stumbled upon your Christmas event. …. You and your volunteers have helped me remember to focus on and be so thankful for the love and support that we have all around us!"